Advancing the Growth of Women-led Businesses in Underserved Communities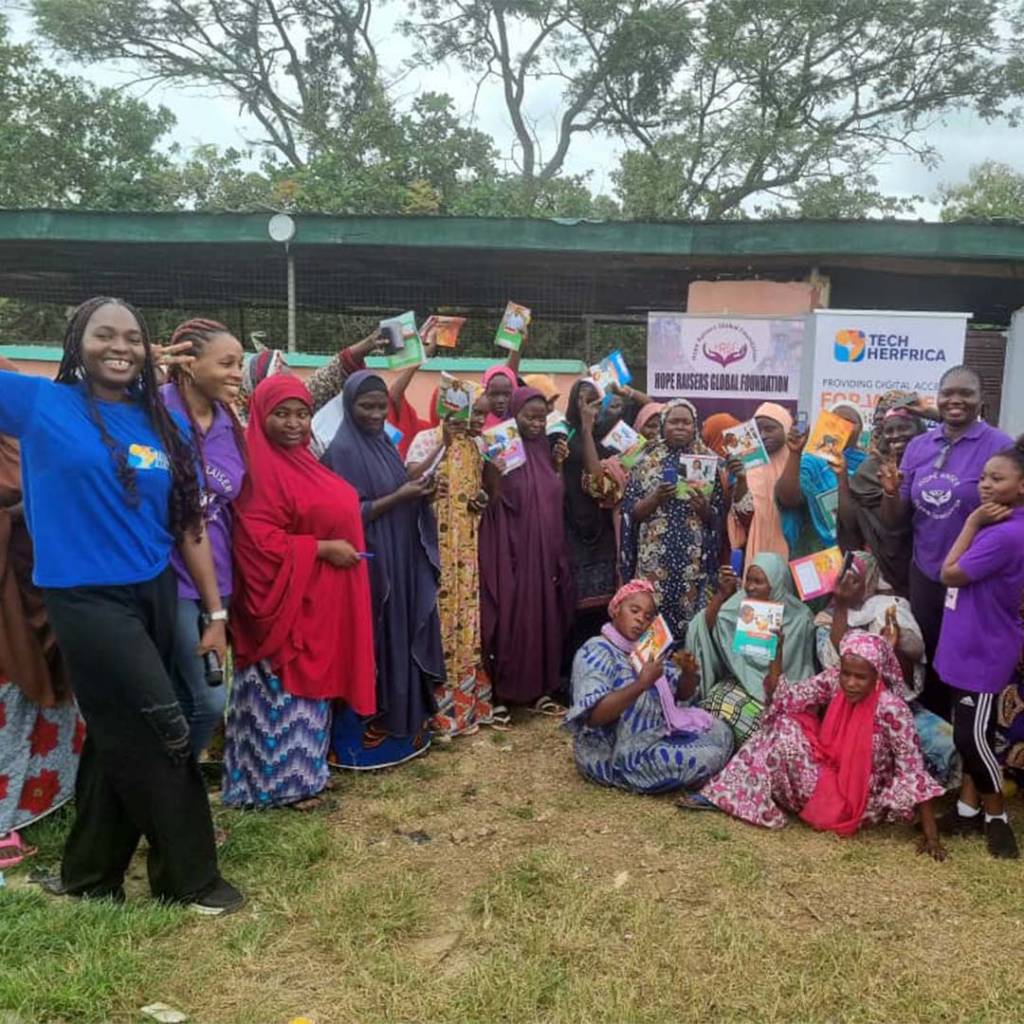 In pursuit of our mission to promote the growth of women-led businesses in marginalized communities, Tech Herfrica, in collaboration with its partners who share the same vision, Hope Raisers Global Foundation and Onome Food Market, conducted an intensive financial management training on September 23, 2023 at the Internally Displaced Persons Camp, Durumi, Abuja.
This training was a pivotal step following our previous project, which focused on providing digital literacy training to 50 women and equipping 26 women with mobile devices to enhance their participation in agriculture and trade. The earlier project revealed a disheartening reality: none of the women possessed the skills to calculate their business sales, profits, or losses, leaving them trapped in a perpetual cycle of poverty and stagnant business growth. The initial training encompassed comprehensive digital literacy and basic financial management concepts.
The in-depth financial management training aimed to empower these underserved women by teaching them how to calculate their business capital inputs and determine sales profits and losses. The training sessions were conducted in the Hausa language, ensuring accessibility, and each participant was provided with a notebook to facilitate bookkeeping and reinforce their newfound knowledge.
Impact:
The impact of this training was remarkable:
100% of the women now possess the ability to calculate their income and expenses accurately.
All participants can determine profit and loss effectively.
100% of the women have expressed eagerness to begin bookkeeping for their businesses.
They have gained confidence in maintaining proper records.
Concerns of some women about writing in English have been addressed, as they have affirmed their ability to write in their local languages.
100% of the women received bookkeeping notebooks and pens.
Sustainability:
Ensuring the sustainability of the project is a priority. To achieve this, the following steps have been taken:
Local clusters and champions have been established to facilitate the training and guidance of other women in the community. This approach promotes knowledge sharing and continuous learning.
One woman who exhibited significant potential for business growth has received financial support to scale her business. This support is expected to increase her income by at least 50%, further validating the effectiveness of our approach.
Next Steps:
Ongoing Monitoring: We will closely monitor the women's progress in bookkeeping and offer support whenever needed. Regular check-ins will ensure that they continue to manage their records effectively.
Access to Financial Resources: We will facilitate access to supply credit and business finance opportunities, empowering the women to scale up their businesses and potentially increase their income by up to 50%.
Promote Lifelong Learning: Encouraging continuous learning within their respective clusters will be a priority. We aim to foster a culture of knowledge sharing and skill enhancement among the women.
Sustain Monitoring and Evaluation: We will maintain our monitoring and evaluation systems that have already been put in place. This ensures that we can assess the ongoing impact of our initiatives and make any necessary adjustments to further support women's economic empowerment.
Conclusion
Our commitment to empowering women-led businesses in underserved communities has yielded promising results. The combination of digital literacy and financial management training has not only equipped these women with essential skills but has also instilled confidence and a sense of self-sufficiency. With sustainability measures in place, we are confident that the positive impact of this project will continue to ripple through the community, ultimately breaking the cycle of poverty and fostering economic growth among these resilient women.