Winner of the 2023 SDG Digital Game Changers Award in the People Category, issued by the International Telecommunication Union (ITU), Tech Herfrica is a social impact organization that is bridging the digital divide and breaking the cycle of poverty for women and girls in rural African communities through digital and financial inclusion.
By providing farmers and traders, especially women, in rural Africa with the information, digital tools, smartphones, digital and financial literacy training, access to financial services, an e-commerce platform, and other resources they need to enhance their farming and business activities and sell more of their products at competitive market prices, we are reducing poverty, reducing post-harvest waste, contributing to food security, promoting social inclusion, and advancing digital equity.
Our initiatives aim to enhance women's agency, empowering them to make informed decisions, actively contribute to program design, articulate their needs, and participate in their socio-economic development.
Our activities cater to more than just women; in a proactive approach to bridging the digital divide, we have also crafted innovative programs tailored for girls and young students in rural areas, equipping them with the knowledge, skills, and tools to thrive in the digital economy. Our ambitious goal is to reach 10 million women, girls, and young students in rural areas by 2030.
Due to the ongoing digital divide, millions of female farmers and traders across the continent are unable to access essential information on market prices, new markets, weather forecasts, agricultural methods, government policies, etc. As a result, they are unable to plan properly, make informed decisions, or adjust to changing circumstances, which leaves them trapped in a cycle of poverty.
With our innovative approach, we have connected the key elements of digital and financial inclusion to economic prosperity for beneficiaries. Our work has increased digital and financial knowledge and skills for over 80% of our beneficiaries and improved their income by 56% on average.
In addition to co-creating an e-commerce solution, herlocalmarket, that connects rural female farmers and traders to local and international buyers so that they can sell more of their products at fair prices, leading to reduced income inequalities and reduced food waste, we provide access to local technology for farmers and traders to increase production as well as conduct digital financial literacy training in indigenous languages for women and girls in rural communities so that they are equipped with the knowledge and skills required to adopt new technologies and access financial services.
We also facilitate access to internet-enabled mobile devices, health insurance, business finance, supply credit, and long-term savings plans so that our female farmers and traders can have the tools they need to leverage digital technology, access financial services to grow their businesses, and live financially stable and healthy lives.
To advance the growth of women-led businesses in rural and underserved communities in Africa, leveraging technology
We are working towards a continent where women and girls in rural and underserved communities in Africa are enabled to prosper in the digital economy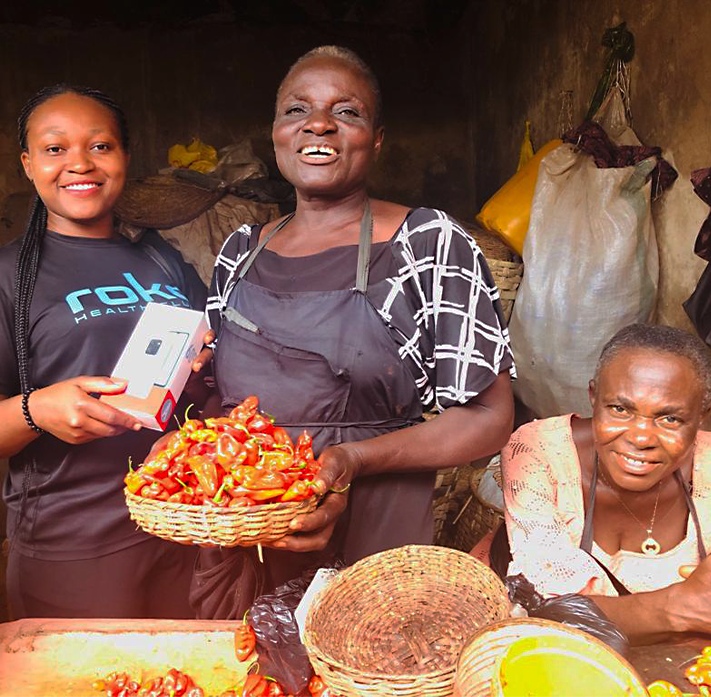 Our flagship project is the provision of an e-commerce web application, herlocalmarket.com, that directly connects female sellers in rural and underserved communities to domestic & international buyers for quality food items at over 45% cheaper than city markets.
Our model cuts out middle man, price padding as well as the possibility of adulteration & quality reduction along the supply chain, while also facilitating seamless delivery from sellers to buyers. Sellers are trained and equipped with smart devices to carry out e-commerce, while our team carries out marketing of the products, fosters delivery, manages the web application and serves as the bridge for quality assurance and issue resolution between sellers and buyers.
We were passing through a village in Nigeria when we stopped by to buy fresh farm produce from a seller along the road. Our purchase of about 80,000 naira (100 USD) made the seller cry. Watch our story to find out more.
Shop our merchandise. Proceeds are used to implement economic empowerment  programmes for women in rural and underserved communities in Africa
Be a part of our work as we deploy a strategic approach to helping women in rural communities scale up their living, businesses, and productivity.
Frequently Asked

Questions
You can become a financial or technical partner, or both. Financial partners donate money to fund our initiatives, while technical partners support our work through volunteering their skills, expertise or providing execution support for our cardinal programmes. Click on the "get involved" icon on the top menu to become a partner or volunteer. For more information, send a mail to info@techherfrica.org
No. Our work cuts across Africa and we are constantly seeking ways to expand. As of March, 2023, we have secured partnerships in Kenya, Ghana, Zimbabwe, and Benin Republic to replicate our programmes. We plan to keep building partnerships across Africa.
We have well outlined operational and programme costs, and donations are assigned to specific programmes. We also have a Board Audit Committee that reviews our financial statements and ensures that funds are used judiciously. Furthermore, we carry out annual audits by external auditors and we release our annual report to the public to foster transparency and accountability.
Inquiries
Questions?
Get in touch.