Empowering Women in Agriculture in Akun Development Area, Nasarawa State
On Saturday, November 4, 2023, Tech Herfrica embarked on its EquipHer4Growth initiative, bringing vital empowerment to the Akun Development Area of Nasarawa State. This project aimed to uplift 161 women, primarily farmers, and received tremendous support from the local community.
The sessions which were done in Hausa Language and Pidgin English, aimed at enhancing participants' motivation, knowledge, and skills to leverage technology for economic empowerment and to build resilience against the impact of climate change. Additionally, participants were provided with smartphones to help translate their newly acquired knowledge into practical action.
The project included comprehensive digital and financial literacy training, focusing on the following key areas:
How to use mobile devices for accessing farming information.

Implementing smart agricultural practices.

Utilizing voice enabled functionalities on mobile devices

Leveraging digital technology to combat some of the effects of climate change.

Utilizing Facebook and WhatsApp to reach new customers.

Using radio, calculators, and various phone applications to enhance their businesses and daily lives.

Accessing financial services through USSD codes and banking applications.
Emphasizing the importance of savings and health insurance.

Guidance on proper bookkeeping.

Teaching participants to maintain records and calculate profits.
Before the training began, a thorough assessment was conducted, revealing the following key findings:
Only 4.97% (8 out of 161) women owned smartphones.

Impressively, 45.96% of the women had a bank account, while 69.56% possessed a national identity number.

None of the women had prior knowledge of e-commerce and its benefits.

Only 5.49% had heard about Google Search, and its immense benefits

18% of the women had heard about health insurance but were unaware of its benefits. 

A mere 2.48% were familiar with the concept of long-term savings or pension plans.

The women also expressed their challenges, including the lack of access to funds for purchasing fertilizers, seedlings, and pest control, as well as the need for an irrigation farming system to support dry-season farming.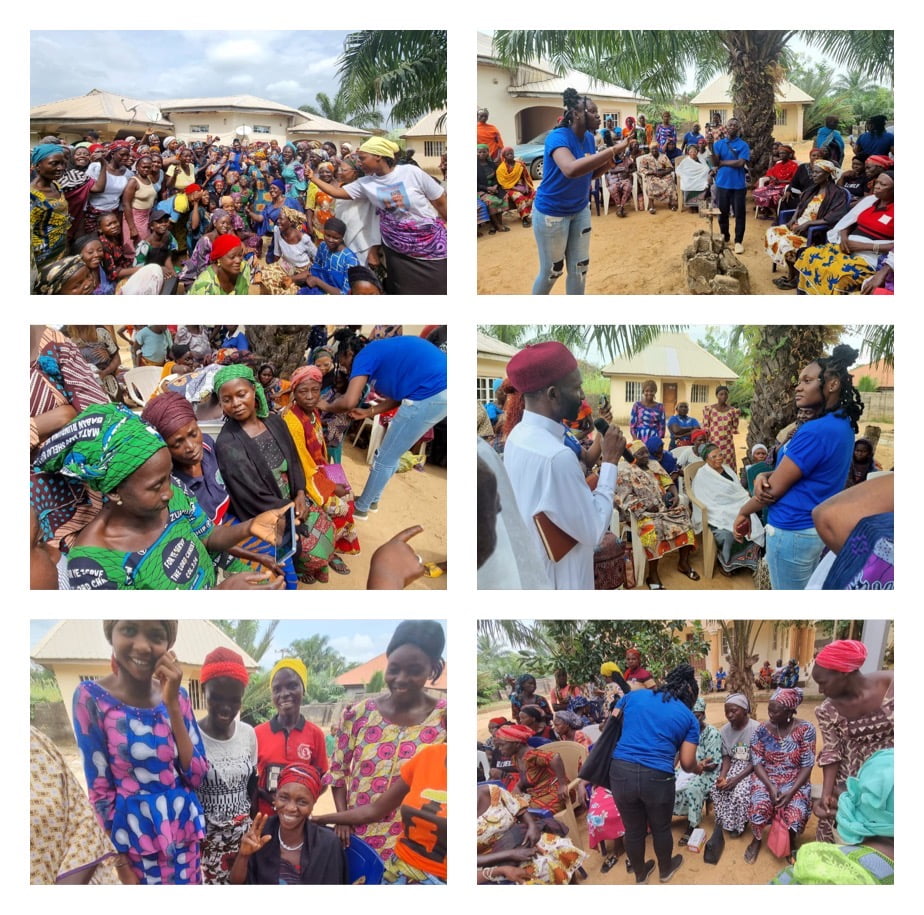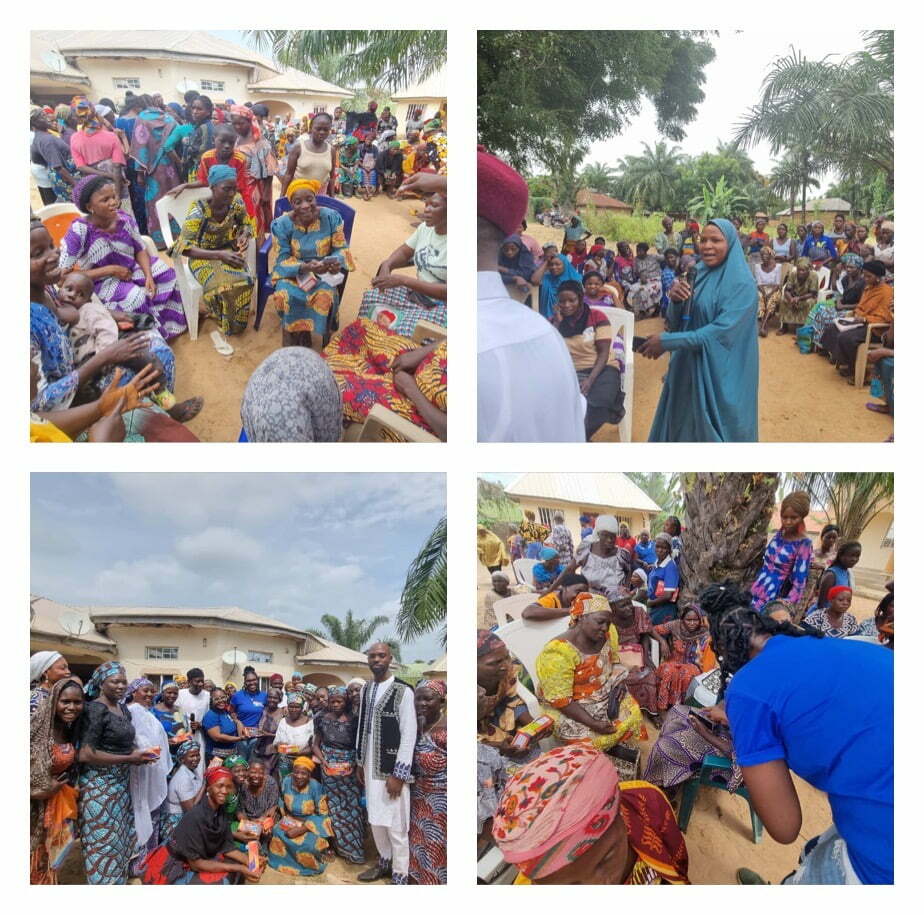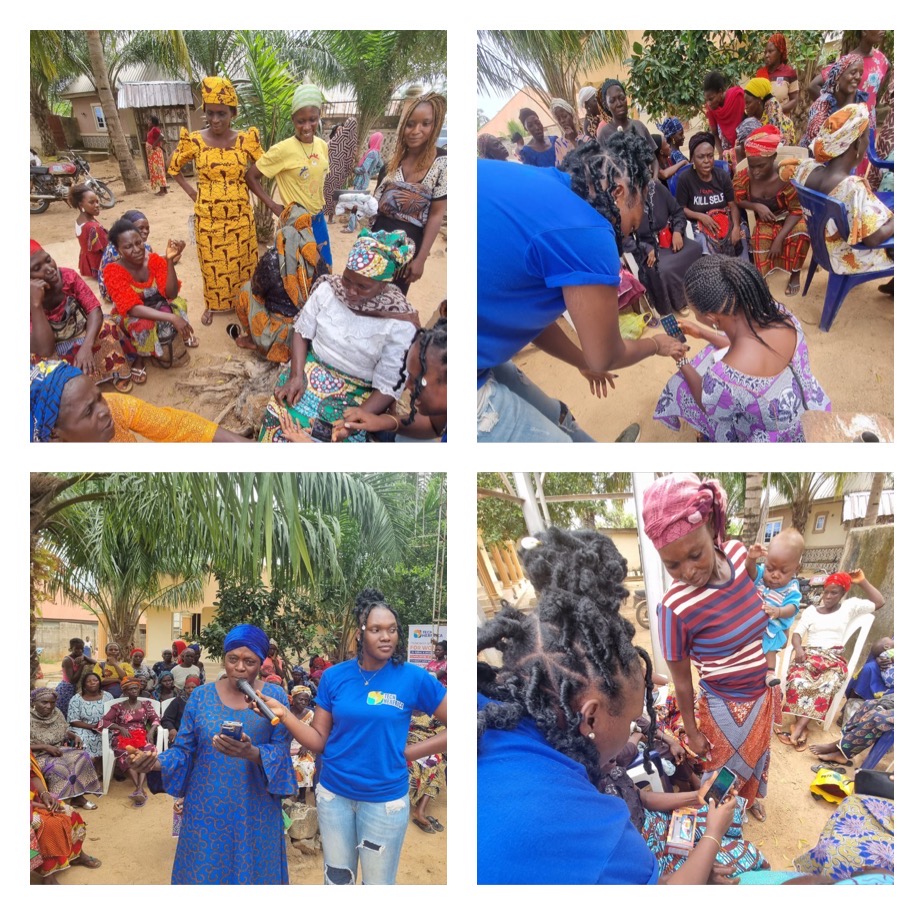 After the training, significant positive changes were observed:
95% of the women confirmed that the training had improved their digital and financial knowledge and skills. These women learned how to use WhatsApp and Facebook for business, understood how to improve their farming and business outputs using digital technology as well as learned how to save, calculate profits, keep records and access financial services.

90% of the women reported increased motivation to use digital technology.

95% of the women felt confident in using digital technology to grow and scale their businesses and farming activities.

85% of the women stated they were more comfortable accessing financial services like savings and loans.

95% of the women expressed heightened motivation to access health insurance plans.
Access to Smartphones and Cluster Empowerment:
Twelve clusters, each comprising 10 women, were equipped with smartphones to facilitate smart agriculture, income improvement through e-commerce, access to financial services, and broader community connections.
Stimulated Business Activities:
Based on customer requests from herlocalmarket, business activities in the community were stimulated and items such as Palm Oil were purchased from the farmers.
Sustainable Trade Facilitation:
The women have agreed to establish a Facebook group to facilitate trade. In addition, Tech Herfrica has established modalities to connect the women to it's e-commerce solution to foster trade and position them to increase their income by at least 50%.
To ensure sustainability:
Community leaders have tasked cluster leaders with fostering ongoing learning and trade support within their communities and clusters. 

The project has been adopted and incorporated as a community-based initiative, ensuring its continued success and impact.

Strong buy-in has been obtained from community leaders and the traditional ruler.
Tech Herfrica plans to implement its Agric-Scale Up project in the community to enhance agricultural productivity to meet rising demand.

The Business Finance Initiative will also be introduced to bridge the finance gap for these women.
The EquipHer4Growth initiative has had a profound and positive impact on the women of Akun Development Area. Tech Herfrica remains committed to empowering women in rural communities and contributing to their economic development and resilience.