How Tech Herfrica is Promoting Inclusiveness in African Digital Economy (This Day Publication)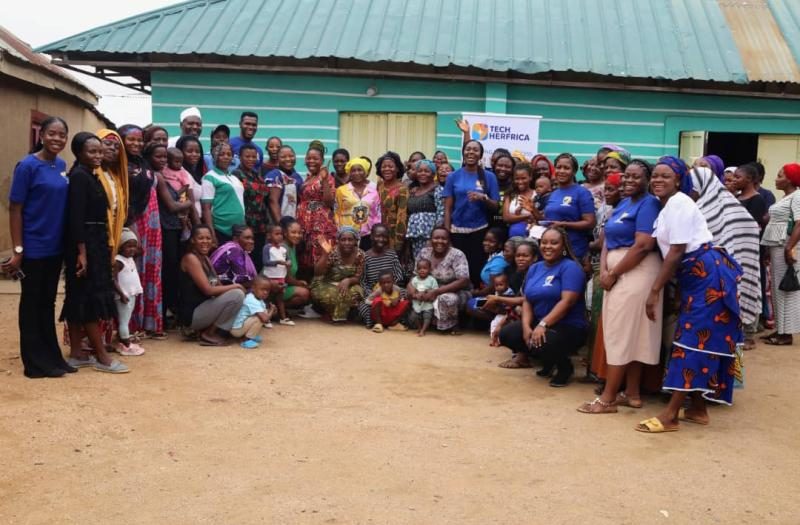 With the vast innovations and global technological trajectory transition, digital and financial knowledge are becoming far important skills needed to facilitate digital inclusion. It has become apparent as digital and financial literacy aid individuals to reap the benefits of the fast growing digital economy and not remain excluded.
To this end, Tech Herfrica, a nonprofit organization is championing digital inclusion for female farmers and traders in rural communities, organising digital financial literacy programmes using indigenous languages to foster understanding and adoption. Tech Herfrica carries out training in Yoruba, Igbo, Hausa, and pidgin English and has trained over five hundred women across Nigeria.
According to Schejter, 2015; digital exclusion is where a section of the population has continuing unequal access to and capacity to use information and communications technologies (ICT) that are essential to fully participate in society.
Also, the GSMA's 2021 Consumer Survey report shows that rural women are less likely than rural men to own a mobile phone. Rural women also have lower levels of mobile ownership than urban men and women.
Speaking during a press conference, the founder of Tech Herfrica, Imade Bibowei-Osuobeni reiterated that Tech Herfrica has designed a holistic, evidence-based solution to foster digital inclusion and economic empowerment for women in rural and underserved African communities.
In her words, "Despite the increasing internet coverage across the continent, there is still the usage gap, which can only be successfully bridged when stakeholders come together to implement evidence-based tailored solutions that take into consideration the cultural and socio-economic factors that contribute to low internet usage and adoption of digital tools, especially as it affects women and girls in rural communities."
Speaking on partnership with other brands to expand the organisation's reach, she said:" We've partnered with key organizations such as the African Leadership Foundation, Faslearn Africa, Justan Edutech Solutions, and Digital Financial Literacy consultants to ensure that programmes are designed to meet the peculiarities of each target population based on the needs assessment report".
"During each training, Tech Herfrica teaches participants how to leverage digital tools and access financial services to grow their businesses. Participants are also educated about the need to access micro pension and health insurance plans so that they can live financially stable and healthy lives, even at old age.
"Tech Herfrica's programmes have led to an average of 86% improvement in the digital financial literacy of beneficiaries across the target population in Abakpa, Enugu State, Okeho Town in Kajola Local Government of Oyo State, as well as in Gishiri and Mpape communities in the Federal Capital Territory. Over 26 percent of women in these communities who participated in the programme have also confirmed their willingness to access health insurance and micro-pension plans".
This is a significant leap in motivation, considering the baseline data, which was less than 3%. The impressive results can be largely attributed to the focused approach which Tech Herfrica deploys to conduct the training. The curriculum and delivery methodology is tailored to suit the peculiar needs of the target beneficiaries and the delivery is done using local languages and context.
"In addition to conducting digital financial literacy programmes, Tech Herfrica incorporates eligible beneficiaries into the digital economy through its e-commerce initiative, Her Local Market", she added
"Her Local Market is an e-commerce platform that connects women in rural and underserved communities in Africa to domestic and international buyers. The goal is to create an inclusive ecosystem where female farmers and traders can sell more of their products at the right prices, leading to more income, reduced poverty, food security, reduced food waste, and social inclusion.
News Source: This Day – https://www.thisdaylive.com/index.php/2023/04/30/how-techherfrica-is-promoting-inclusiveness-in-african-digital-economy-imade/