Tech Herfrica Receives TIBA's Impactful NGO of the Year Award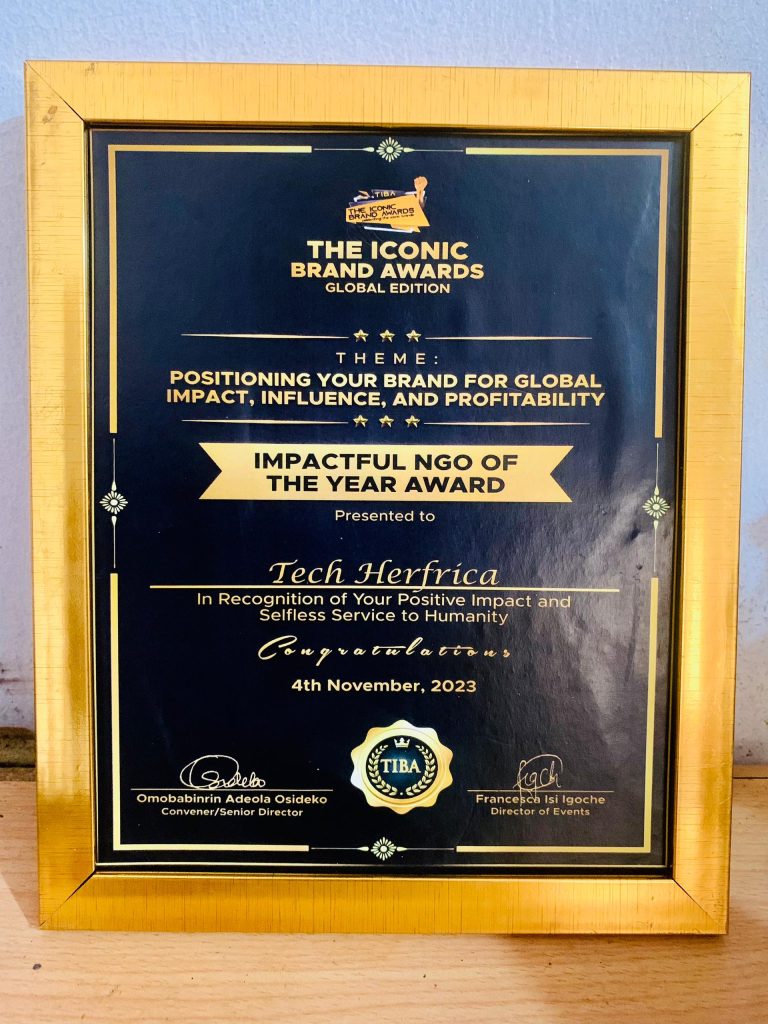 On November 4, 2023, in the heart of Lagos, we received the impactful NGO of the Year Award at The Iconic Brands Award ceremony. This marks the fifth time in 2023 that our efforts have been recognised both locally and internationally.
The sheer joy we feel each time we receive an award is indescribable. Why? Because the work we do with rural women and girls can easily go unnoticed because our women may not be on X and Instagram to personally share their experiences.
Our pictures are not pretty, and when you see them, you might not understand the effort put into them. Our pictures are about authenticity, capturing the raw essence of our journey. Behind each image lies tales of arduous road trips, weeks of immersive interaction, meticulous programme design, and dogged implementation.
Indeed, our commitment to breaking the cycle of poverty through digital and financial inclusion has been a journey filled with challenges and triumphs.
Starting with a humble desire to help one woman in need, we have now empowered over 3000 women and girls, with our sights set on a bold goal of reaching 10 million. Our focus transcends mere numbers. It is about transformative experience and uplifted communities. And when people say, 'How can?' – we respond with a resounding 'Watch us!'. 
At the core of our accomplishments stands EquipHer4Growth – the shining star in our array of award-winning initiatives. This transformative solution is meticulously crafted to elevate digital and financial literacy among rural women. Through the provision of internet-enabled devices, we empower them to refine their agricultural and trade practices, seamlessly access financial services, and witness a remarkable 50% surge in income through e-commerce.
While the narratives of our beneficiaries may not echo loudly across social media platforms, their impactful journeys resonate deeply within their communities. We draw comfort from the tangible strides they take, stepping out of the shackles of poverty. Awards such as the Impactful NGO of the Year stand as poignant reminders that our endeavours are not only witnessed but celebrated.
This recognition serves not only as a celebration of our past achievements but also as a powerful catalyst propelling us towards even greater goals. It reinforces the profound impact our work has on the lives of women and communities. As we celebrate this recent recognition, we are fuelled with renewed energy and determination to extend our reach to more women across Africa.