The Upside of Trade Facilitation for Women in Rural & Underserved Communities in Africa
In Africa, rural women produce over 70% of the continent's food, yet they are often excluded from the digital economy due to a lack of access to technology.
To put things in perspective, e-commerce in Africa generated 33.3 billion dollars in revenue in the year 2022, and it is truly unjust and unsustainable that urban city business owners are profiting from the hard work of rural women by purchasing their products at low prices only to resell them for a higher profit. We believe that this situation needs to change, and it is our mission to work towards a more equitable and sustainable system that values and uplifts rural women.
In February 2023, Tech Herfrica launched an e-commerce initiative that is targeted at facilitating online trade for women in rural and underserved communities in Africa, thereby, including them in the digital economy.
Starting with Nigeria, Tech Herfrica has commenced trade facilitation for female farmers and sellers in select villages in Nigeria, with buyers in Abuja and Lagos. Products include palm oil, beans, garri, cashew nuts, crayfish, egusi, dry fish, plantains, snails, ogbono, yams, dry pepper, fresh tomatoes, pepper, and onions.
Trades are currently being facilitated using WhatsApp, pending the launch of our e-commerce web application. As of March 8, 2023, over 10,000 USD equivalents have been facilitated in sales.
This initiative has seen an instant upside as female farmers who used to sell between 30 and 70 USD monthly now sell between 150 and 400 USD on average. This shows that their inclusion in the digital economy has the potential to lift them out of poverty.
Currently, Tech Herfrica conducts marketing of the products to wholesale and retail buyers and also ensures seamless delivery from buyers to sellers. Buyers are now able to get quality food items for over 45% less than what they go for in regular markets.
Tech Herfrica also facilitates the acquisition of smartphones for the sellers in order to communicate with them during the sales process.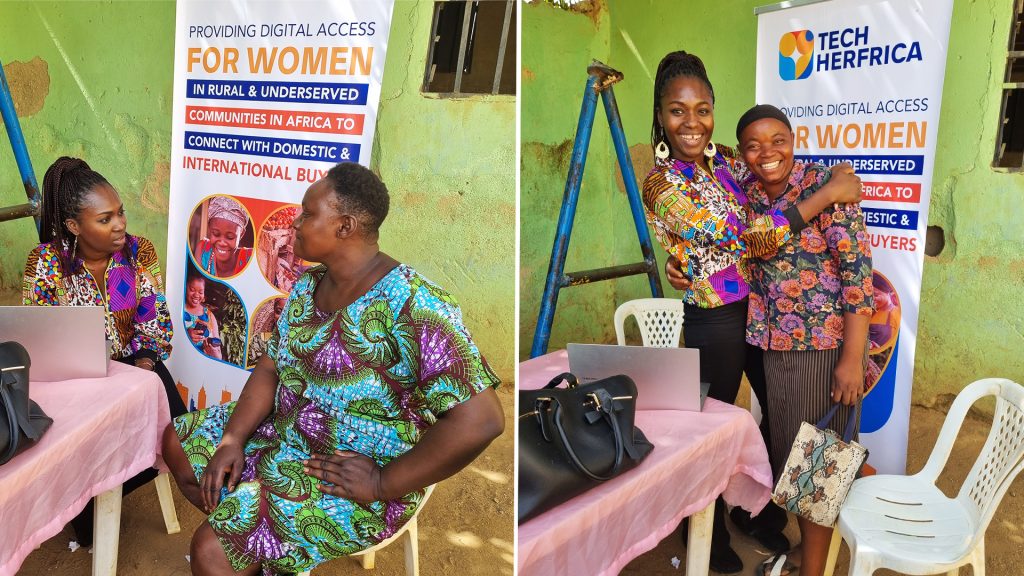 In the coming months, Tech Herfrica seeks to increase its seller base across Nigeria and expand customer acquisition in more states in Nigeria. We will also be launching herlocalmarket.com.
At herlocalmarket.com, our target audience is two-fold. First, we are targeting urban consumers who are looking for affordable and high-quality food items. By using our platform, they can access these products directly from the source without having to pay inflated prices. Second, we are targeting female sellers in rural and underserved communities who are struggling to find markets for their produce. By using our platform, they can connect with urban buyers and sell their products at fair prices.
The outcomes of our platform are significant. For buyers, they will enjoy more affordable food items that are of good quality. This will not only help them save money but also improve their access to healthy food options. For sellers, we expect a reduction in poverty, as they will be able to sell their products at fair prices and earn a decent income. This will help them improve their economic status and contribute to the development of their communities.
Moreover, our platform has broader societal benefits. By empowering female sellers in rural and underserved communities, we are promoting gender equality and women's empowerment. We are empowering these women to take control of their economic destiny and participate in the digital economy. By reducing the possibility of adulteration and quality reduction along the supply chain, we are improving the health and wellbeing of consumers. By facilitating seamless delivery, we are promoting efficiency and reducing the carbon footprint of transportation.
Herlocalmarket.ng is a unique and innovative solution that addresses the challenge of the urban-rural digital divide. By connecting female sellers in rural and underserved communities with urban buyers, we are creating a more equitable and sustainable food system. Although our work has commenced fully in Nigeria, we are currently building relationships across Africa to enable us to scale up the initiative and its impact in Africa.